in for a penny
....boogie, boogie, boogie [uttered slowly, shaking head].
i like the neck line. i changed it to a v rather than a slit. it's real purty. the problem with changing a pattern, is that it changes the pattern.
i cannot live with this: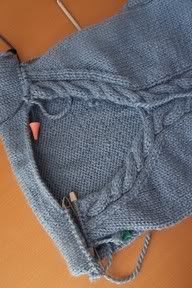 i am my mother's daughter when it irks me so much that a pattern started on the front of a garment abruptly stops where the back begins. how many cute items did my mom not allow me to pick out for myself because "there is nothing on the back, ce n'est pas de bonne qualitee." there was no problem with the way
amy king
wrote this pattern; i had to go and change it. now i have to go and change it some more... maybe
this lovely number
(the green on the right w/cabling around the neck) could help me...
so rather than have a finally finished boogie, i'm committed to figuring out how to continue the cable motif across the back of the neck. do i knit a piece and tack it on? do i rip back and knit sideways? i'm sure experienced knitters know how to do this. i am not that experienced knitter. but i will be.
for now, boogie sits and waits until i recieve my copy of
knitting on the edge
in the mail... i'm hoping it will help.
i just looked up from the computer screen to the tv to see aunt mae, in
spiderman
, knitting up a blue garter stitch square. that amuses me.