goody, two shoes!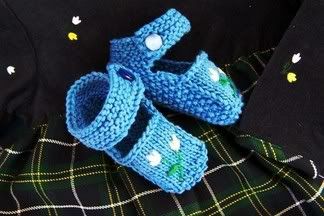 project adapted from rosebud shoes pattern by debbie bliss in nursery knits.
yarn: endless summer collection lara. 100% cotton. purchased from elann

pattern refigured to accomodate smaller size than written for.
tulip embroidery in place of rosebud intarsia.
the embroidery is by no means polished which is why knitted embelishments is fast moving to the top of my knitting library wish list. any recommendations for a similar title/resource? i'd like to have something on hand to consult when i want to add that extra flourish.
thanks for all the baby shoe book loans snbers! i'm very happy with what i made. v, i hope you still stop by here from time to time so that you see the cute shoes i made to go with the laura ashley outfit you passed on to bea; look for them in person at jonathan's baptism. bises to all who influenced this uplifting little project.

and sock progress; this is its 'good side'. i need to drop a stitch down (again, i tried once but didn't twist) and discipline the hole at the top of the heel: