thursday
here are the hoodie colors all swatched up in the form of the back of each sweater. aidan's blue is montana sky, desmond's florida keys green, bea's is delft. this picture doesn't show the color gradations of the yarn; for cheap stuff it is fun to knit up for the kids.
the largest sweater is pretty far along. the hood is completed, after binding it off and trying it on, i found that the pattern is not written for a child's head as big as the one mine has. so, ripped out the bind off, added a couple inches and have now completed the hood. tees me off a little as it adds a couple of ends to weave in. what remains now are the sleeves and the finishing. lots of ends too, no spit joining on this acrylic. boo.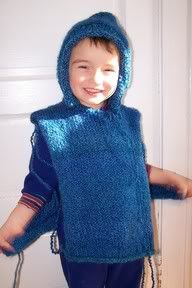 aidan rather likes the sweater at this stage. the hooded tunic styling of it has him pretending he is a knight, and then when he is tired of that he is an
ewok
. there he goes with the dress up again. given this penchant, i am wondering, is
this
what his future holds?
what will you do with
the moment you find to yourself
today?