be mine
*if you're not a fan of the holiday, scroll to the links at the end of this post for justification of your position.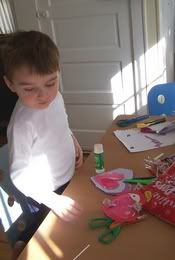 aidan is making valentines for his friends at school. they have their sweetheart party on monday. we recycled some of his preschool color experiments for many of the heart shapes.
last week was my very first parent teacher conference; on the parent side of the table that is, for aidan. it was fun and affirming. i'll savor this one as i don't imagine they will all be this wonderfull... especially desmond's...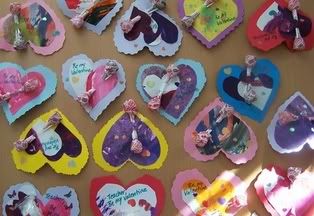 to celebrate that, saturday was mommy and primo day with aidan. we had a date to go to the library and check out
flat stanley
, because his cousin sent him a flat stanley doll in the mail. and then, we hit cvs to get some lollipops to stick in his crafty homemade valentines. being no dumdummy, he chose dumdums because they had the most in a bag.
happy valentine's day to you.
*
these
are atrocious, check out the
puppy one
especially.