fo
there were 13 of us at snb last night; what a blast! the other nice thing is that at least 2 new groups have formed in the last couple of weeks. i can't wait to check them out one of these days...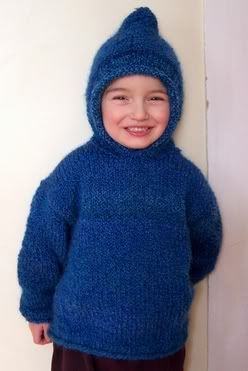 and now for the reason behind this post... ewok sweater is all done.
i was going to give it a fluff through the wash and dry cycles, but aidan hasn't taken it off since the final try on; he hasn't even put down the hood. he wriggled into it, looked up at me and said one word in the shape of a question... ewok? he looks just like one. i'm taking it that's a good thing in his mind.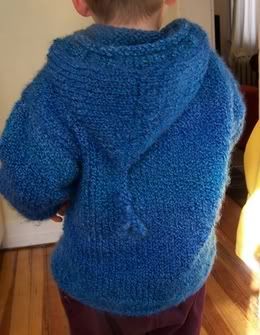 the pattern was from the knit it section of the free patterns on lionbrand's website.
the yarn is lionbrand homespun in montana sky.
this is the closest i've ever followed any pattern; pretty much to the letter. i only added a tassel to the hood. oh yeah, and i had to make the hood probably 3 inches longer to accommodate the pumpkin that is aidan's noggin.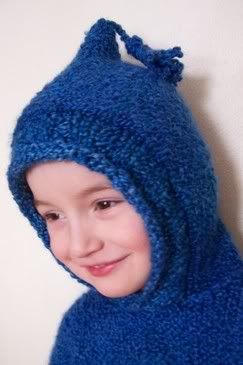 would i knit this again? yes, i have two more to finish for the other bambinos. after that, it will be a long time before i work with this yarn again. it's splitty and fuzzfull. seaming s***ed as the end of the working thread would fray and a 3 inch blob of fuzz would shed off in the stitch i just made. i look forward to a practical, washable garment to make up for that little peeve.
one thing i would do differently, though i didn't catch it in time for des' sweater, is that i would start knitting the front with a new ball. i ended up changing balls about 2/3 up the piece and now there is a more abrupt color change than the subtle gradation the yarn is intended to move through. i'll definitely remember that for bea's edition. overall, i'm very pleased.
progress is slow and steady on the remaining two sweaters, dah's sock(s), and the boogie vest. boogie was the knitting of choice at snb last night, until the ball ran out. i'm getting very close to the point where i will have to stop and do some math to achieve the neckline i plan to alter for.