pretty maid's [booties] all in a row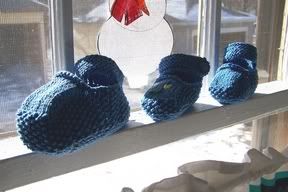 one of
these
is not like the others. i gauge swatched this debbie bliss bootie in the form of a first bootie. now, i know db's philosophy behind knitting oversized garments for kids. they're meant to be worn with plenty of ease for freedom of movement, and they can grow into the size over a couple of years, yada yada. ok for sweaters. but for a baby bootie??? does that make any sense at all? what child will wear a bootie after she learns to walk? making this item oversized is not going to stretch the window for wearing it--unless you decide it looks good on your german shepherd.
i pretty much assumed the booties would fit the age given. wrong. after knitting this
zeppelin
for my daughter's dainty foot, i decided to peruse some pictures in some of db's other books to see how her booties looked
on
(note that the picture of the one i was knitting was of the booties hanging seductively from a crib rail). sure enough, the kids who have them on their feet probably used a diving board to get into them. so lovely though. her books make me want to have barrels of babies just to knit for them...
at any rate, i love the booties. after some adjustments, they are just what i was trying for. and, a couple of aspects to this project make it all the more enjoyable. first, i have an fo to show for my effort rather quickly. more importantly, is that i used left over yarn from my stash. originally, i went to the lys and purchased some navy cotton because the dress she needs these with is dark and plaid and velour. then, i decided to return that yarn and purchase more in it's place, but... for someone else! (yay! no extra yarn in my house!) because i remembered i had perfectly lovely blue yarn already. you may remember
this stylin' item
knit for aidan while i was pregnant with bea (also adapted form debbie bliss, btw). i had a couple skeins left, some of which went into the pitcher for
annie modesitt's
famous
fiesta tea set
. and now i have booties for my three legged baby. it's all good.
what remains for me is to purchase buttons for the booties and embroider some little flowers on the tops to match the ones that pepper the velour bodice of the dress. also, i need to knit the lid to the pitcher, and some tea cups, and some saucers, and the creamer and sugar bowl... that was the first and last knit along i ever joined, can anyone tell me why?