too much?
back of
boogie
is complete. front is started, accomplished my first cable ever. ran out of yarn, eye kept on mailbox for reprovisions (thanks cg).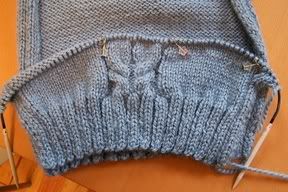 began swatching for
lionbrand family of hooded sweaters
using dah's christmas gift yarn. planning one for each kidlet. going to exchange some for different colors as i would like each to be a different hue. if poor bea is going to get these things handed down to her for the rest of her life, they might as well be different colors. i know, i've complained about knitting the same thing twice, i'm not sure what i am thinking. i do know what i am thinking, how cute they will be wearing matching hoodies as it gets chillier on the beach when the sun goes down. and how snuggly they will be when we're hauling their monkey bodies over the sand dunes to get back to the car. - a little alternate season fantasy to get me through january, thank you.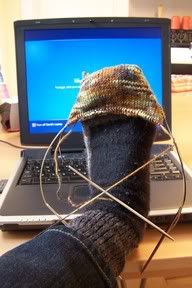 speaking of knitting things twice, i've started
a toe up sock
(you all have the pattern in the
knitting pattern a day calendar
someone got you for christmas ;) for dah. there was a provisional cast on with the toe done in short rows down to the tips and then back up the other side before the stitches were joined with the cast on row to begin the tube up the instep. so technical (for me) and so cool. new year, new skills. i said that already, it's still true or it's true again, whichever.