recycle, reuse, repurpose
my girlfriend returned from an island vacation this week. she brought back some nifty little market toys, a crab and a turtle, for the boys. they are very excited by the motion of these handmade gismos. the toys aren't exactly durability tested, however, and they need tweaking and repair before the recipients are tired of their novelty. pictured is the simple mechanism that is the 'go' of these little sea characters.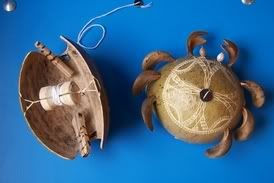 how is this for resourcefulness? see the 'rubber band' there? well, it
is
a rubber
something
, but... not exactly a band.... eww! i need to wash my hands now! (please, please,
not
reused
) v. is appologizing for her gift selection, dave and i are laughing over the sink and the handsoap. we're trying to brush off aidan's request to bring his toy to bed with him.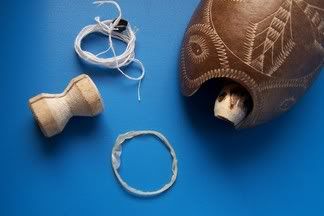 now, we're under instruction not to share this 'secret' with our friends, the parents of the third spoiled child... who knows if they'll take it cheerfully... the scandal! these make nice wall ornaments, don't you think? thanks v!
umm. knitting. boogie vest 10 inces of the back -not-. ripped. too big. start over. a couple of inches into the rib now. the yarn is so fabulous, i intend for this to be a knit i will ablolutely wear and use! a favorite sweater, even! the good news is that i won't need as much yarn with the smaller size. i think i'll start the socks for dah too so i have a couple of things going at once as a break from each other.