ho, ho, ho, completed christmas gifts galore
in order of completion.
beginning with the
kittyville
hat knit from banff somethin' or other. modeled by des who's noggin i hope is smaller than the recipient's. niece 1 down, her sister to go. niece 2 was supposed to get a similar hat in debbie bliss chunky merino. but after knitting both the first kittyville, and
lil' devil
, i started getting bored of the same project all the time.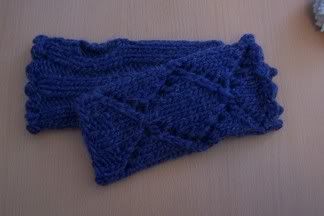 next are mom's mitt's knit from marnie maclean's delightful pattern, scroll down to link. wouldn't you know i finally get the digital camera thing going and now i have to contend with dark winter days to take pictures in. i think you can just make out the ribbing and thumb hole on the bottom mitt and the lovely diamond pattern on the top one. forget about color. fun knit all around.
back to niece 2. this is actually a large swatch turned scarf. this was the yarn, online linie, i purchased from
elann
to knit
'in the mood'
. after the first ball, i decided the furriness of the yarn was not as shaggy as i wanted so i sent the rest back. i decided to bind off and add ponpoms for a kicky little scarf. i mixed the linie and some left over berocco plush for the ponpoms. i hope she likes. i hope one sister is not jealous of the other. at least these are the west coast nieces, so if battles ensue, i'll be away from the fray.
yay. now i get to tie ribbons and bows. what elf tune will you be whistling today?