wish knits list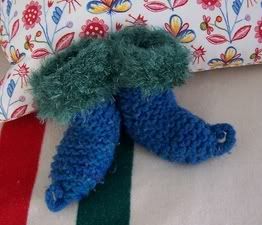 another little object finito.
aidan has had his curly-toed elf slippers from weekend knitting for a few weeks now. i hesitated about adding the fur because i thought it might be too fussy for a big boy like him. but, one day he asked me when i would get the fur on. so, this weekend i knit up the trim.
as i progressed he said wistfully, 'now they are going to be
real
.'
'real what?' i asked, 'they were real slippers before'.
'now they are going to be real
christmas
shoes...
my elf booties
...'
looking ahead:
clapotis
-need yarn, exploring options
boogie vest
-need a couple balls more of yarn, swatching, alternate guage calculations complete.
wendy's toe up socks
-swatching
in the mood
-ggh lara on shopping list
cindy
-have yarn
mulling over the possibility of:
tricot
and/or
mariah