keep on keepin' on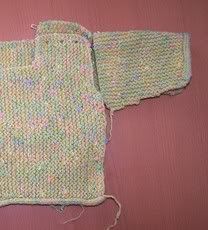 all the knitting on jacksonorlilly's sweater is finished. it remains for me to seam it and attach the buttons.
i have most of one of mom's mitts completed. a lot of ripping on that one as i am attempting it with a very distracting head cold. i'm knitting it in the round rather than flat as
Marnie's pattern is written
(Marnie is super cool, go check her out). i'm considering adding thumbs.
why is my blog skin all hinky? for the past couple of days my sidebar has been crowding the main body. for that matter, why doesn't the clock that stamps my blog posts with the time ever tell it correctly? these demand my attention but i shall not give it at this time.
my cold is lousy. can i take sudafed while nursing? must call mine or the kids' doctor to find out. what nuisance will you prevail over today?
addendum: snb turned me on to photobucket, but i need better control over the size... must pick brains later tonite.