happily ever 'till the next project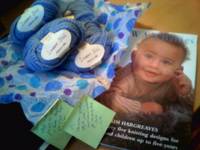 thanks spiii!

forget secret pal, what i have here is a regular fairy godmother!
picture the babies driving me, cinderella, crazier than usual today. i just was not left alone to accomplish the
one
thing i set for myself, clean their room. aidan was all over me 'helping', and desmond was wandering about like a clingy little puppy. i finally bellowed some words, banished them from the room and tried to go about my business. then hubby shouts up the stairs that i have a mail package and tosses it up. so i grab it and shut the door behind me and my vacuum cleaner. the vacuum and i hunker down behind the closed door and steal a peak inside. such pleasure. 4 balls of debbie bliss alpaca silk and a rowan babies book! mmm, i could feel the breath of the magic wand pass over my head and glittery molecules falling all around, lifting my spirits for the rest of the day. of course it remains for me to transform the stuff into the enchanted garment myself, that's the fun part. thanks fairy godmother, it is all so lovely.
the room is clean enough. i plan to knit on the pure and simple baby pullover from weekend knitting, that is for jacksonorlilly.... and maybe swatch some beautiful delft blue, terribly soft alpaca silk. how will you spend the rest of your day?