dans la nuit, les chats sont gris...
but not this one!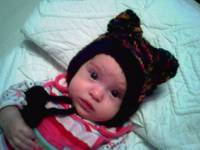 curious cat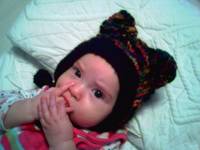 hungry cat

sleepy cat

i know, camera pics, not the greatest. hubby might be tempted by a real digital for christmas, who knows?
anyway, i had to get these up to honor my secret pal iii. she has been looking out for me lately, what with help finding yarn, etc. so, it's high time she see her thoughtful gifts enjoyed and appreciated. i adapted the baby hat pattern from the puppy ensemble in
monkey knits
. i added a
berocco plush
(leftover from fluffy cuff) trim all the way around and some pompon ties. the yarn sp sent is called
sabrina, collezione s charles filati d'italia
. the color she sent was number 27; black, gold, purple. as you can see, or maybe you can't because of the sub par pics, it turned out an adorable little number for beatrice to wear as long as the weather stays cold, starting with halloween. actually, it wasn't cold on halloween, but she wore it anyway as a costume, imagine little eyeliner whiskers drawn on her cheeks.
looking forward to snb tomorrow. in spite of the close proximity of the date to the holiday, some say they are still showing up, myself included. new members are joining all the time now, must be the season. it's fun to go and see the group morph and change and stay the same.
jacksonorlilly knits on, just about done with the sleeves.
how is your day going?
please, no comments about my french spelling or grammar; i already know it is lamentable.