mommy's purse
this post has the feel of cleaning out my purse to me. i have a bunch of little odds and bits to tend to that will serve the purpose of tidying up mind and space to make room for... more.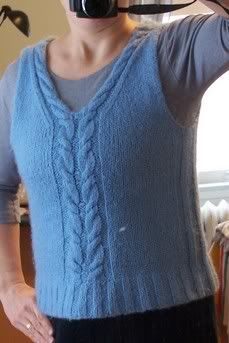 click
for peek-a-back and peek-a-bea...
first, here is the boogie vest. done. i didn't do an edging because the 'felting' served to smooth out the edges and tighten the cable in the back enough not to deal with that. i've worn it a couple of times now. i like it. it's cozy. i need to find some more feminine tshirts to wear with it to compensate for the bulky look of the finished piece. it's a few less stitches per inch that i think i care to wear regularly.
over the february break, i took the kids to newburyport to see the cousins. we visited the local yarn shop,
three bags full
, that i couldn't find last time. my niece had scoped it out for me in between visits. it's lovely. lots of rowan. lots of cherry tree hill. lots of lots of nice things. big, roomy, i'll be stopping in whenever we stroll downtown in the future.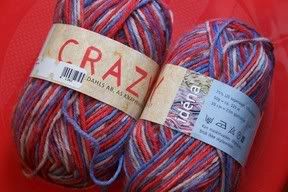 i purchased some
crazy
sock yarn (in red/pink/blue) while i was there. i tried to resist but my sil enabled me. i told her i didn't know the gauge of yarn i needed for my next project, but she argued for stash building--in spite of not being a knitter herself. i figured i know what i'll do with sock yarn; it's a safe purchase. i only have one other lot for socks besides this new bit and the yarn i'm using for dah's socks (which btw just turned the 2nd heel on).
that's it for now. i hope to update the project lists in the sidebar this week.