early mother's day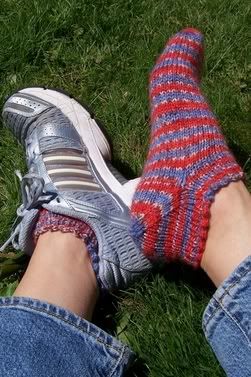 if my picot trimmed ankle is cute enough... can you forgive the stubble?
i'm pleased. the third go finally yielded a suitable cuff. it hits below the ankle bone, the picot is of the right proportion to be noticeable. these socks were knit from the denise's toe up sock lesson found on the sock knitters website. i worked the afterthought heel found on the same website. i made up my own cuff. it took three tries. i finally ended on five rounds of plain ss after the heel, five rounds of 1X1 rib after that, finished with a picot worked with 2 cable cast on stitches preceding each 4 cast off stitches. i think it's pretty near 'just right'. the yarn i used way idena crazy. i knit it on u.s. 3's with the picot on u.s. 1's; i generally knit tightly and up my needle 1 size to reach suggested guage.
i have to add, this is my first pair of handknit socks and, though i generally don't even notice wearing socks, these feel positively dreamy. i walk around on happy feet that say, 'thanks for caring, i'm glad you've finally noticed and appreciate that i'm here for you constantly.' much like what a mommy could say to her innocently reliant kids. so don't take your feet or your mommies for granted; give them a treat. or do what i did and use one stone for both by being a mommy and treating your own feet to a nice pair of handknit socks on your necessitous children's behalf.