a finished te rosada sleeve. next on the agenda, further dismantling of the original sweater.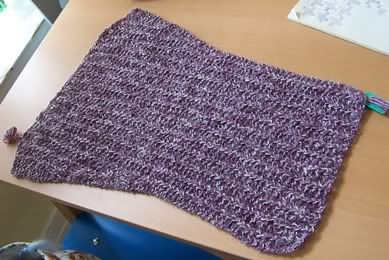 and a finished hoodie. it's a little too warm for it to be shown off by a live model today. i'm hoping we'll still get use out of these this summer on cool shoreside evenings.
what else? more fun was had spinning courtesy of
chris
and her endless selection of wheels, and fiber, not to mention her patience for intructing and generosity in sharing all her good stuff.
i need to whip up something for aidan's school auction. i was thinking that little felted, monogrammed purse from stitch n' bitch nation with a houndstooth pattern instead of the initial. maybe too complicated to get done on a deadline though. perhaps a
buttonhole bag
instead.