the other foot(s)
oh yeah, a few days ago i finished a project. i present to you wendy's toe up socks in [in]action. they were so damn big to knit. endless it seemed. as it turns out i could have shaved a few stitches off for a snugger fit. overall, gratifying results for a first set.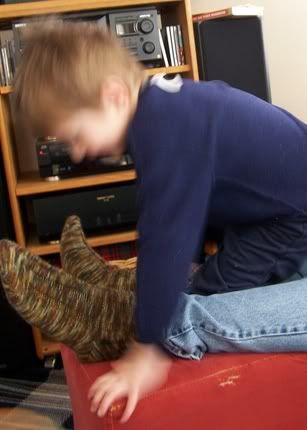 click for closeup and focus but lesser color
now that i've knit one pair, i feel the need to have socks on the needles at all times. here is edition 2. after studying the picture of the almost argyle sock on
i'm knitting as fast as i can
, i made up a little chart to try with what else? -the toe up pattern (it's the only one i have at the moment). i will endeavor to find a pattern for and try the thing where you add on the heel at the end. i think annie modesit has something like that for purchase (sidebar link).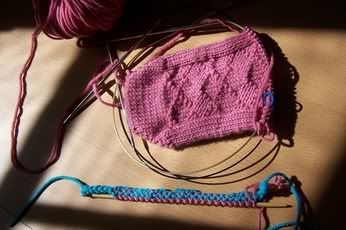 sock 1 and provisional cast on for sock 2

so much quicker than the last; smaller socks, fatter guage, pattern to keep me going. i'm going to try the negative texture on the instep of the next sock to see if i like how it lays better. one of 'em's gonna get ripped depending on which i like more. these are coming out of the ecco zitron merino yarn, gifted to me by mom at christmas time.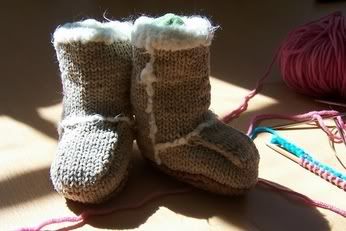 in case you other knitters of ugg were wondering how they would fare; these have been washed several times over (cold, low heat tumble). i don't always adhere to washing instructions, as you may have surmised by the felting incident.
and since we're on feet. i thought i would finally get around to photographing the ugg booties i made for bea ages ago. i started these when snb was still taking up outside seating at the newington starbucks. bea has outgrown them now and i think i'll toss them in an envelope for the girl cousin back west that is even tinier than she is.