stitches, but not knit ones
i spent the rest of saturday making a yarn pail inspired by the bucket i saw on
split yarn
. i used a pair of corduroys that had been passed on to me. i was a little dismayed at first that a size 10 fit me so well. but that was a couple of months ago and when i wore them recently, they were too large and dumpy and i was afraid 'what not to wear' was out to get me around every corner (i wish).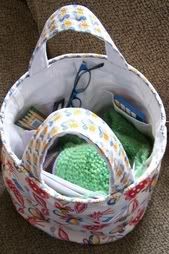 all of this made me more than happy to recycle these duds in the form of the interior lining to my yarn pail. i had picked out some nice home fabric at the knitter's breakfast but didn't end up purchasing any. still, i couldn't shake the mood to make my crafty carry-yarn. so i ended up scavenging a decorator pillow i had from ikea that spent too much time on the floor next to the bed. i loved the fabric when i saw it and had to take it home, but it never really found a place and it wasn't comfy anyway.
under the scissors it went. the only unfortunate thing is that i ended up with more seams than i care for, and i would have preferred it if the cuts allowed me to have the flowers grow up and down rather than sideways. also i added handles for ease of take along to stitch n' bitch. that makes it kind of a tote/bucket, which isn't as whimsy as the original but i'm pleased with the result anyway (next time i'll try some lower profile handles).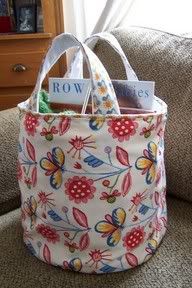 a cheerful bag to be sure. now i can leave my knitting out in the living room and not be grossed out by the ugly crafter's choice bag, or the lot of balls strewn about everywhere. it's big enough and pretty enough to toss everything in and slide toward the corner. ahh... that's better... maybe some actual knitting next post.