i am so sick....
of all this snow!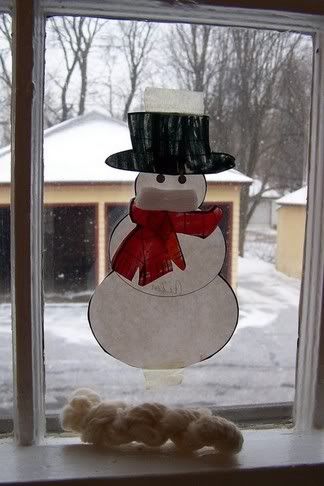 it's coming down again. maybe i should change the window decor to coax spring along. click for a
closeup
. visit
karen
for more pics.
but it's been a good week anyway. snb was fantastic. wich is of course fantastic...but not. karen and myself were there and
chris
brought along a guest of honor, one of her spinning wheels. you see the first time i tried spinning it was tricky and humbling and i could tell myself that this was something i wouldn't be into. but now this week of the march 9 snb, i am finally succumbing to the charm of the craft.
karen sat down for a spell at the wheel after chris got it all set. being a kind sort, karen asked me if i'd a like a turn -repeatedly. i was resisting for a good part of the evening, frogging away on my lion brand hoodie, sticky green acrylic piling up beside me. but, karen took to the wheel so naturally, only her second time. she was enjoying herself so much, positively gleeful i'd say. turning that light as air fluff into a wonderful thick and thin, and it was getting close to 8:30.
i thought i was safe. i couldn't possibly enjoy the success karen was having. i'd fumble and frustrate and the wheel envy that grew in my heart by the second would subside. so, as karen tied her boots back on, cuddly mini merino skein in hand, i sat. drat that chris for becoming such a good teacher! she honed her instruction strategies with karen and ensnared me with her step by step approach. it was. so. fun.
you spin me right round baby.