stash control
did you notice the pretty box of bright colors in the previous post? they are going back to
webs
. only part of the order was filled and those balls are of no use to me without the rest so... it is time to keep shopping. pity too, good prices. i don't like stashing up without specific projects in mind, don't even suggest i keep it.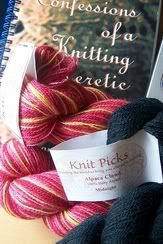 what i will be keeping are these items that arrived from
knitpicks
. the midnight blue is going to be
this stunning little number
to wear with the dress that i always wear to weddings. and the variegated is destined for the clapotis. yep, finally getting around to that ol'
clapotis
. problem is, i didn't realize the gals who knit it using shimmer held it doubled; so i need me some more.
and finally, to replace some of the mia items from webs, i ordered some
organic cotton
from elann. funny they should have cable eight pictured there, it does seem like a good match for that yarn, but my cable eight is in the past. i'm using the yarn for
arlene
. i had a credit there so it felt like an even better deal than it actually was.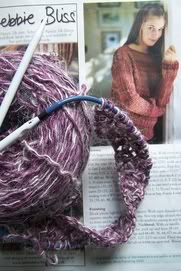 yes, and besides the socks and the hoodie, i've started a second sleeve for te rosada. i hope it won't be too big for me. the finished sleeve is long, just like in the magazine pics. it's lovely that way but any extra length derived from pattern design/construction will make the sleeves tooooo long. we shall see.
the kiddie i watch weekdays was just picked up by his mommy and two of my own are napping. time for a tall cold one; beer that is...